This is a close-up of a Panamint Red Rattlesnake. You can see the loreal pit between and below the eye and the nostril.
The Loreal pit is the deep depression, or fossa, in the loreal area on either side of the head in crotaline snakes (pitvipers). It is located behind the nostril and in front of the eye, but below the line that runs between the centers of each. It is the external opening to an extremely sensitive infrared detecting organ. The loreal pit is bordered by lacunal scales.[1]
From Wikipedia, the free encyclopedia
fossa

/fos·sa/ (

fos´ah

) pl. fos´sae [L.] a trench or channel; in anatomy, a hollow or depressed area.
Heat Vision
Rattlesnakes and other pit vipers have remarkable heat-sensing pits. Located behind each nostril, below a straight line that would directly connect the nostril to the eye, is a loreal pit (called this because it is a depression in the loreal scale). These pits are highly effective in detecting differences in temperature even several yards away. At short ranges within a foot or so, minute differences (of perhaps fractions of a degree) may be perceived.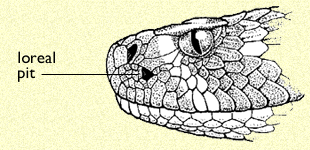 Heat given off by an animal creates a heat image; therefore, rattlesnakes have "heat vision." The heat images are integrated with visual ones in the brain. This type of vision is helpful for nocturnal predators, for it enables them to hunt effectively even in total darkness. It may also help distinguish predator from prey, allowing rattlesnakes to determine whether they are at risk themselves. Larger, non-prey animals give off larger heat images, signaling the snakes to avoid potential encounters with these animals.
This is from www.desertmuseum.org